No matter how much art historians of a particular critical training try to convince themselves otherwise, many artworks when seen in person are seductive and beautiful. Period. I have had this conversation a million times with both colleagues and students (and Walter Benjamin's famous treatise "The Work of Art in the Age of Mechanical Art" notwithstanding) I am continually struck by how much I am awed when in the physical presence of artworks that I write and think about regularly. It also makes me wonder about the critical distance that I have, being situated in Canada and in a city far removed from access to seeing canonical works of art on the regular, and how that might have been different had I completed my training in Europe. Would my insistence on interrogating the myth of the artist genius be as strong? Would I have pursued such an interest in modern and new media art? Would my research interests been dramatically altered? Would this have been for better or for worse?
Pondering all of this while in London, I was still glad to visit many of the works that I routinely lecture about, mostly to look at the nuances of materials, composition, and any other special features I would tend to miss when studying an image from a book or slide. That of course is the primary advantage of seeing art up close—that, and being able to record and photograph when possible these nuances and discoveries. What follows in my shared photos and galleries are some of these chance findings and some of the little insights gained when seeing the canon of art history up close.
First up, my visit to the Tate Modern. This is pretty much the first place I want to go when in London, and like the MoMA in New York, I instantly feel at home with what I encounter. This time around I was glad to see one of the replica Duchamp Fountain's (an object that you come to love or hate as an art history student) that are in several modern museum collections around the world. Cased in glass, I chuckle to myself about the preciousness of the display—Duchamp would have hated it— but noted the pristine white surface and organic form of the materials. Clearly Duchamp recognized some measure of aesthetic appeal to the way porcelain gleams when properly lit. These tensions are incredibly pronounced when seeing the work in person. Keeping in mind too that this is a replica, the object still excites audiences for its art historical significance. This alone is deeply ironic, but is an important part of the contradiction brought about by the work.
Moving on, I was also glad to get the rare chance to look closely at a Lee Krasner painting. Krasner, who is mostly treated in the canon as the wife of Jackson Pollock, a footnote in art history, was a tremendous painter in her own right and has even been credited more recently with influencing Pollock far more than previously admitted. Importantly, her painting hung solo at the Tate without any Pollock near by—a real declaration and important curatorial choice— and it was fantastic to see the confident large scale and all over composition of this piece.
Finally, a room filled with Gerhard Richter paintings was both mesmerizing and insightful. Up close, these works are a study in layering and experiments in paint application. They are thick and dimensional. And although I had the pleasure of seeing Richter's retrospective some years ago at the Pompidou in Paris, the placement of such large scale works in one large room, with nothing else, was a sight to behold. 360 degrees of Richter... uh-oh, I may have even gasped at their beauty.
Walking from the Tate Modern over to the Courtauld Gallery moves visitors not only across the River Thames but also several centuries back in time. Despite any perceptions of "old art," however, the institution still houses one of the most significant collections of modern Impressionist and Post-Impressionist French art, and that was what I was there to see. Moving from room to room, one of the striking aspects of the Courtauld is the intimacy of the space—being in the gallery feels like a visit (or a sneak into) a grand mansion. The work is strategically exhibited as it would have likely been encountered originally, in the salon or smaller rooms of someone's home (remember that the Impressionist and Post-Impressionists were mostly excluded from official French salon exhibition). Instead of the grand rooms of the Orsay in Paris where people generally first encounter French Impressionist art, the works at Courtauld are hung over period furniture pieces and distributed in decorated rooms. As a result, works such as Renoir's La Loge (1874) are made to look even more luxe and gorgeous in such a setting, bringing about that uncomfortable edge that many Impressionists walked between being critical of the society they portrayed or merely celebrating it in all of its superficiality. Seeing Seurat's Young woman powdering herself brought smiles and the sense that he had a true grasp on stiff rituals of vanity still so much a part of modern individual's lives. Van Gogh's self-portrait is far more jarring to behold in this regard, but once again I am struck by so many of the details I have missed before, such as the Japanese-inspired print painted in the background.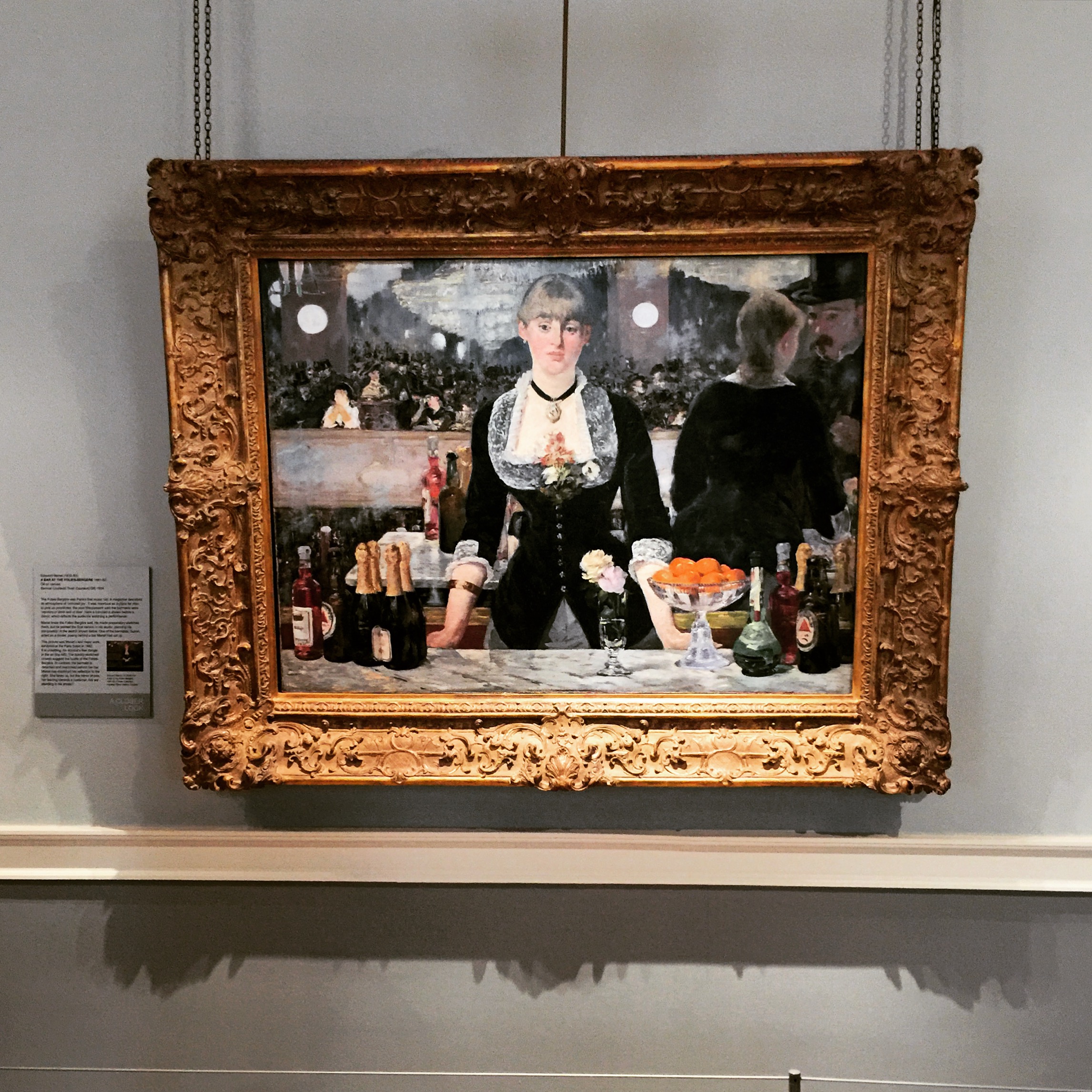 I am also delighted to see one of Seurat's studies for Le Chahut— a larger work on display in the Netherlands. Seeing the small painted studies artists create to produce a larger painting is always insightful and just plain cool. Here I see just how painstakingly Seurat applied dots of paint to the canvas to create his signature pointillism style. I see something similar looking at Cezanne's famous Montagne Sainte-Victoire painting up close. Knowing he painted this scene dozens of times over in order to explore the transience of light and form in landscape, I am reminded that he too saw these masterpieces less as finished works and more as ongoing studies, no matter how they ended up being collected and exhibited.
And finally, I was able to lay eyes on the work I had most come to see—Manet's A Bar at the Folies-Bergère. The subject of so many important academic writings on the Impressionists and the work that inspired many artistic treatments on its content (I am thinking here specifically of Jeff Wall's Picture for Women (1979)-- Wall, an artist from Vancouver who studied for part of his career at the Courtauld Institute and would have been looking at this painting regularly in person) it is remarkable that so many details of this painting are only apparent on closer viewing. The strange way the reflections in the mirror look real but also clearly reflected, the places where the painting is sharp and crisp, and the places where it is fuzzy and almost abstract—just like our own memories and experience of time and space. The expression of boredom tinged with regret on the face of a daydreaming barmaid is even more striking when looked at as if you are standing at eye-level across the bar from her. No doubt Wall would have noted every nuance when studying it day after day to give his own final artwork that arresting quality. This is radical avant-garde painting at its most exhilarating, and yes, at its most beautiful, a must-see in person.