In just a few days, a year's worth of work, organization, and passion for art and travel will culminate in the beginning of a three week adventure with a group of twenty talented and eager individuals that begins in Paris, France and ends in Kassel, Germany at Documenta 14. Along the way, the KPU Paris/Kassel Field School will be posting about our journey on a daily class blog (stay tuned to my blog starting June 8th and anticipate a similar project to the one we did for the New York/Venice Biennale 2015 Field School) as a way to share all of the discovery and insights on this trip of a lifetime. We will also be posting on Instagram under the hashtag #kpuparis to collect our visual mementos. In today's world, travel cannot be taken for granted, and I regard this particular field school as distinct and perhaps one of the more important trips that I will undertake as an educator. Where else but in Paris can a group of like-minded artists and budding art historians contemplate the urgency and relevance of artistic intervention intersecting with political, social, and economic interests on a global scale. "An artist has no home in Europe except in Paris" as the philosopher Friedrich Nietzsche has said. I cannot wait to introduce you to the participants on this trip—each one has a unique story and reason for joining the adventure!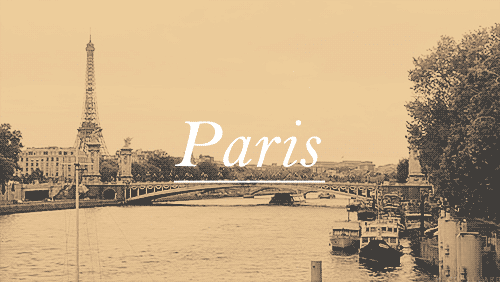 "An artist has no home except in Paris"
Paris in the springtime… what else can I say? Five years ago when I helped plan our first Fine Arts field school, there wasn't any need to discuss which city we would take our students. The breathtaking scope and scale of the city's beauty, the history of political revolution, and the sheer diversity of creative output visible and active throughout the urban landscape and architecture of Paris is entirely unique. On that first trip, I learned how profound the direct encounter with a physical object of art could be for students, especially for those who had not had the opportunity to study artworks up close and within a very focused context. Many of those students have gone on to amazing new lives, several within the art world or as art educators and practicing artists. I know from them that the trip was a turning point. At that time, the addition of Documenta to our itinerary was something of an afterthought. I had been fortunate to study and have a great deal of exposure to the exhibition in my graduate training, and to my surprise and delight, many of the students enjoyed the trip to the small town of Kassel almost as much (and some insist more) than the much anticipated trip to Paris.
Reviewing that first trip and our subsequent adventure in 2015 to New York and Venice, I wanted to assemble something of a primer for the books, movies, and apps that I would recommend to my students, but also as a useful tool for anyone who is planning a visit to Paris in the future, or simply wants to have a taste of what this great art city has to offer. I invite you to explore and enjoy my selections!
MOVIES: Unlike with New York, where I began with book recommendations, Paris for me is all about motion pictures and the rich film history that gives a visual signature to the city unlike any other in the world. Watching a quick frame from any of these listed films, you are immediately transported to the spaces of the city with its unmistakable light and architecture. Trying to narrow these selections to ten picks had me going down a rabbit hole for hours! In the end, I have listed my choices chronologically and linked the selections to the IMDb database where you can read the plot summary, reviews, watch trailers, and learn more.
The 400 Blows (1959): I know I am skipping half a century of fantastic French film to begin here, but French New Wave cinema is a must for anyone heading to Paris. Truffaut's story of a young boy's coming of age set against the backdrop of post-war French culture is a classic, and one that I screen almost every year in my Intro to Film Studies course.
Breathless (1960): The French invented hipster cool, and this film embodies everything the youth culture of Paris had to offer in the 1960s. Paris plays center stage in Godard's impossible to describe masterpiece. Just go with it and enjoy the ride.
Cleo from 5 to 7 (1962): Agnes Varda is one of my favourite directors and her films always linger a long time after viewing. This particular story provides the audience with a day in the life of a female Parisian. The camera work alone is worth a screening, but the city of Paris is the real star of this movie.
Last Tango in Paris (1972): Controversies surrounding this film aside, Bertolucci captures something far beyond dialogue in this movie that features a look at the city of love from both an unconventional and unexpected set of perspectives.
Before Sunset (1994): Sigh... thinking about this film is all about feeling the main characters discovering Paris and one another once again. A sequel to the equally wonderful Before Sunrise.
Amelie (2001): An obvious pick, but my choice purely for the fantastical world of Paris presented through the eyes of the lead character. A must-see if you are completely new to the visual delights of the city.
Hugo (2011): Martin Scorsese's love letter to the cinema, set in early twentieth century Paris, and recalling a mostly forgotten chapter in film history.
Midnight in Paris (2011): I couldn't provide a list of films without including one that tells the story of artists and their patrons. There are so many to choose from, but this one from Woody Allen is one of my favourites.
Something in the Air (2013): Art history and theory of the past half century has been shaped by the events that took place on the streets of Paris in 1968. This dynamic film by Olivier Assayas is as relevant to young people today as it was to those it commemorates.
Elle (2016): I have seen this movie five times in the past four months-- that is how much I am captivated by this difficult and beguiling film set in the world of contemporary Paris. Starring the incredible Isabelle Huppert, this is a film that you will want to talk to everyone about once you have seen it.
BOOKS: Because I have spent so much time studying French art and history, many of the immediate book recommendations that come to mind are academic. I have mixed a few of those in with the kinds of books that attempt to capture some of the look and feel of the city across many different contexts and historical moments. The list is eclectic, but also reflects my own diverse interests and approaches when thinking about "reading" Paris. All links go to Amazon and allow further engaged browsing.
The Painting of Modern Life by T.J. Clark is THE book to read for a careful reconsideration of the Impressionist art movement in its complete historical, social, and political context. It is the study that transformed art historical accounts of this period when it was first published, and is a fixture on my syllabi concerning late 19th century French art.
Down and Out in Paris and London by George Orwell is the book my husband took on our first European trip together when we first met, and I recall him being so engrossed in the details and descriptions of Orwell's Paris that he would read long passages aloud to me as we sat in cafes-- we were transported in space and time.
The Flaneur: A Stroll Through the Paradoxes of Paris by Edmund White is a book that accomplishes in a more accessible form what Walter Benjamin attempts to create with the Paris Arcades project. Capturing the essence of the flaneur in prose and narration, the book is the perfect one to carry and read as you move through the city.
Paris France by Gertrude Stein is a classic memoir capturing Stein's life from her childhood in Paris to the world of art that she came to dominate and shape. A must read for art lovers.
My Life in France by Julia Child is a memoir of a different kind, but one that is equally fascinating to that of Stein, but told from the world of food and the perspective of an outsider to France.
The Beautiful Fall: Fashion, Genius, and Glorious Excess in 1970s Paris by Alicia Drake is quite simply one of my very favourite books concerning Paris, period. Told as several interconnecting stories uniting the forces of fashion in 1970s Paris, this is a book that is incredibly well written and hard to put down.
The Perfect Scent by Chandler Burr reveals to you one of personal interests-- the world of scent. The New York Times perfume critic (yes, they have one of those!) tells the story of the making of one perfume as a catalyst for recalling this history of perfume making in France.
My Paris Dream by Kate Betts is another fantastic book in the "American comes to Paris" genre, but told from the perspective of a young university student coming of age as she embarks on a career in Paris. A personal favourite for completely sentimental reasons, but a book that holds up over the years.
Paris to the Moon by Adam Gopnik is a new title for me that has come highly recommended from a number of trusted sources, and is a series of essays about Paris told from the perspective of an outsider who has made the city their home. I have this one loaded on my Kindle for reading while in Parisian cafes.
The Price of Illusion by Joan Juliet Buck is another new title downloaded for on-the-road reading. This is the long awaited memoir of the former-editor-in-Chief at French Vogue, and the book promises to be dishy and full of Parisian insider intrigue.
APPS: I don't know how I ever traveled before the help of apps. Even five years ago on our first visit with students, I was still using a paper map and trying to find places with free wifi to avoid ridiculous roaming fees. Thankfully both the speed of new phones and the availability of wifi and cheaper international roaming has allowed for a revolution in travel apps. Here are some of my favourites to have downloaded for visiting Paris.
Citymapper: This is the most used travel app that I have on my phone for point to point navigation, metro directions, estimated travel times and all around mapping. As a bonus, the app also has many cities in its database, not just Paris.
XE Currency App: For quick conversions of dollars to Euros, this is the best and quickest currency app out there.
Artguide by Art Forum: My favourite guide to every major art city on the planet-- the Artguide lists all opening, closing, and current art exhibitions in Paris and many other cities around the world.
Le Fooding: I cannot wait to use this self-described "food bible to France" app that is new to me, but not to foodies visiting Paris. I am throwing Yelp aside to try this one out.
Paris Food Markets: Another new app that I am told will make food adventures in Paris more affordable and adventurous. Broken down into districts, the app helps users navigate to countless food markets operating in the city.
Monument Tracker: This app is a must if you are a history buff and/or hate looking at art monuments, architecture, and other urban features without context. This one will also take you down rabbit holes of content, but in a good way.
Uber: For those moments when you need to get somewhere fast, without hassle or an exchange of hand-to-hand currency, Uber is available in Paris.
Google Translate: Important and essential, enough said.
Louvre Museum: A beautiful and informative app for one of the most important museums on the planet.
Weather Network App: Should I bring an umbrella or not?..... all of your weather questions answered here and with a 7 and 14 day forecast.