Visiting Toronto is always a bit strange for a Vancouverite. Not dissimilar to the Los Angeles/New York rivalry that exists with our neighbours to the south, there is a way in which the differences between the two cities makes for more of a cultural divide than say visiting another west coast city like Seattle or San Francisco. Then there is the whole insecurity many Vancouverites feel in the face of the larger, historically more significant and globally visible city of Toronto. While this might be changing since the 2010 Olympics and Vancouver's growing distinction as among the world's most liveable cities, most born and bred Vancouverites learn at a young age to root against the Toronto Maple Leafs and come to terms with how off the radar Vancouver remains for most Torontonians. Still, I have come to adore Toronto for its vast size, friendliness, and bold in-your-face attitude. This extends to the cultural life of the city, which is rich and full in a very different way than Vancouver. This is a city with many different points of view and creative outlets—a set of characteristics that was well reflected in my recent visit to the city.
Being raised in a city with a very short urban history, it is always a cool experience strolling historic streets like Yonge, Bloor, Queen, and King streets. Many of these places have housed communities dating back to the 18th century and the build up of architectural styles and evidence of past occupants is ever-present. This time around, I paid more attention to the buildings and walls of Toronto, and was struck with the quantity and high quality of street art on both the main streets and in the alleys and hidden niches of the city. This was especially so along Queen Street West which I learned is home to dozens of large street art murals and has a section dubbed "Graffiti Alley" by locals. I was immediately reminded of Brooklyn's vibrant street art scene I encountered last summer where the local population protects and takes pride in the art form.
Toronto like Vancouver is also an important film city, hosting the high profile TIFF, Toronto International Film Festival, each fall. I have longed to attend this event as both a film studies researcher and lifelong attendee of the Vancouver International Film Festival that happens a few weeks after the Toronto event (yet another way we are sometimes overshadowed on the west coast). For years I have also had the pleasure of being contacted by past film studies students who first solidified their love of the medium after attending VIFF or other local film festivals around Vancouver as part of requirements for my film courses. The closest I could get to this experience in Toronto was by taking in a movie at the wonderful TIFF Bell Lightbox Cinema in the heart of the city. Looking over the listings, I was immediately drawn to Born to Be Blue, a biopic focused on the life of jazz musician Chet Baker. Starring Ethan Hawke and filmed in part around Ontario as a Canadian-UK production, the film was the perfect choice for my first visit to the famed TIFF theatre as it was featured at the 2015 TIFF Festival. The gathered crowd for the Wednesday afternoon matinee was large and engaged—most stayed in their seats right to the end of the credits and continued conversations in their seats, showing the kind of respect for the craft of filmmaking mostly lost at the big box screenings of high budget features.
A visit to Toronto would not be complete without a trip to some of its important museums and galleries. Because this was a shorter visit, I chose carefully and decided to focus my attention on exhibitions at the Power Plant Gallery and the AGO (Art Gallery of Ontario). The Power Plant sits on the shores of Lake Ontario near the foot of the CN Tower and on a long shoreline walk—it is a fantastic space for art exhibition. As one of the city's best contemporary art galleries, it is also an institution that has great curatorial programming, and I was not disappointed in what I was able to check out. Walking into the space was an experience unto itself as 30,000 life-size black paper cut-outs of moths greeted audiences in a mesmerizing installation by artist Carlos Amorales called Black Cloud taking up the entire length of a long corridor, top to bottom. The swarm was both elegant and sensual while equally frightening and eerie. Another artist that captured my attention was the exhibition of Montreal artist Patrick Bernatchez and his interdisciplinary projects ranging from film, sound, and sculptural works. Titled "Les Temps inachevés (Unfinished Time)," the show featured Bernatchez's film Lost in Time, which intertwined two seemingly incongruent narratives with incredible visuals. I was also struck with the complexity of the Fashion Plaza Nights sound and object installation that had as part of the final concept for the piece a mechanized object unfurling 104 spools of thread and encasing it around speakers that gradually muffled the sound of the music it played (see images in gallery below).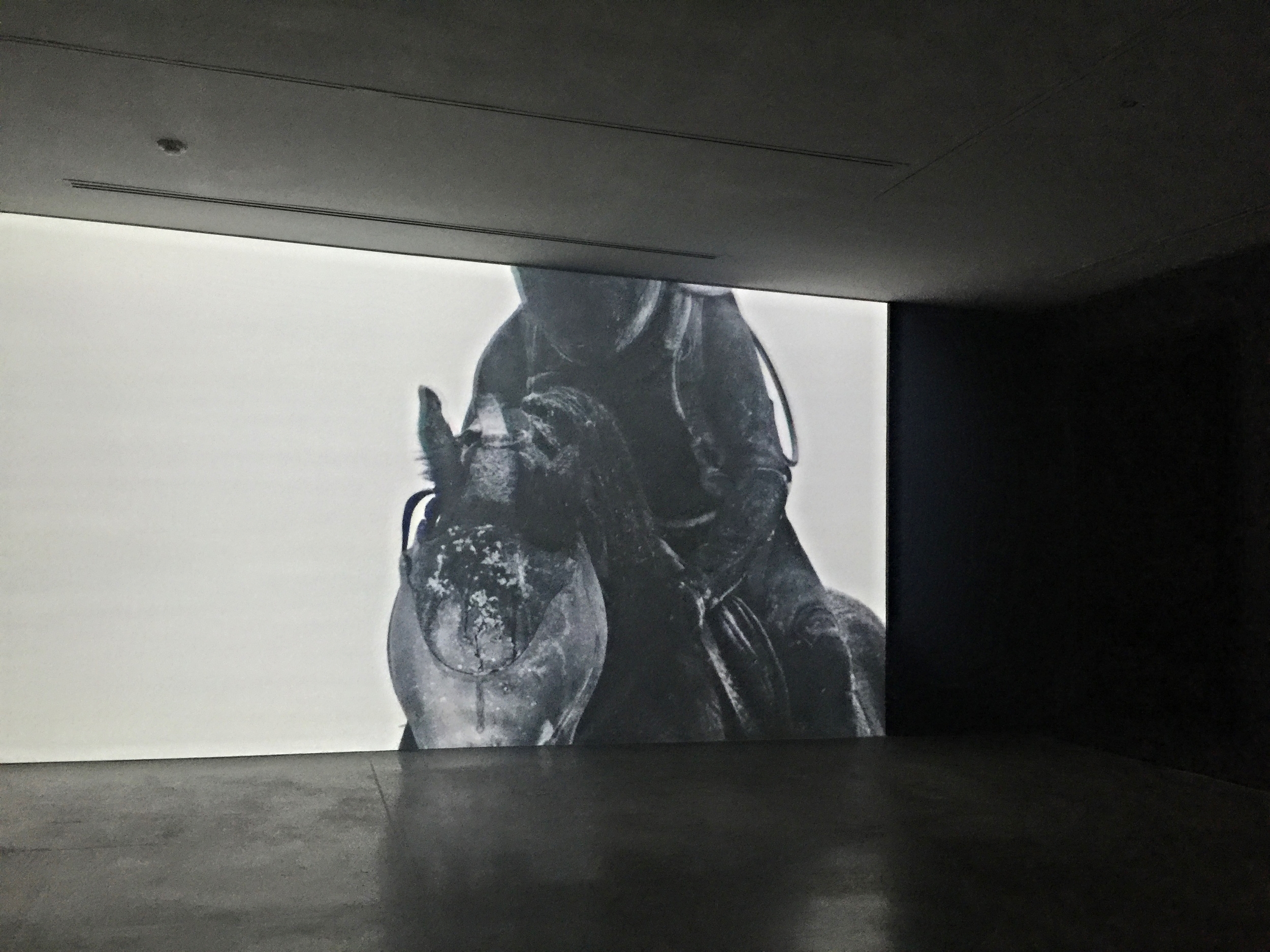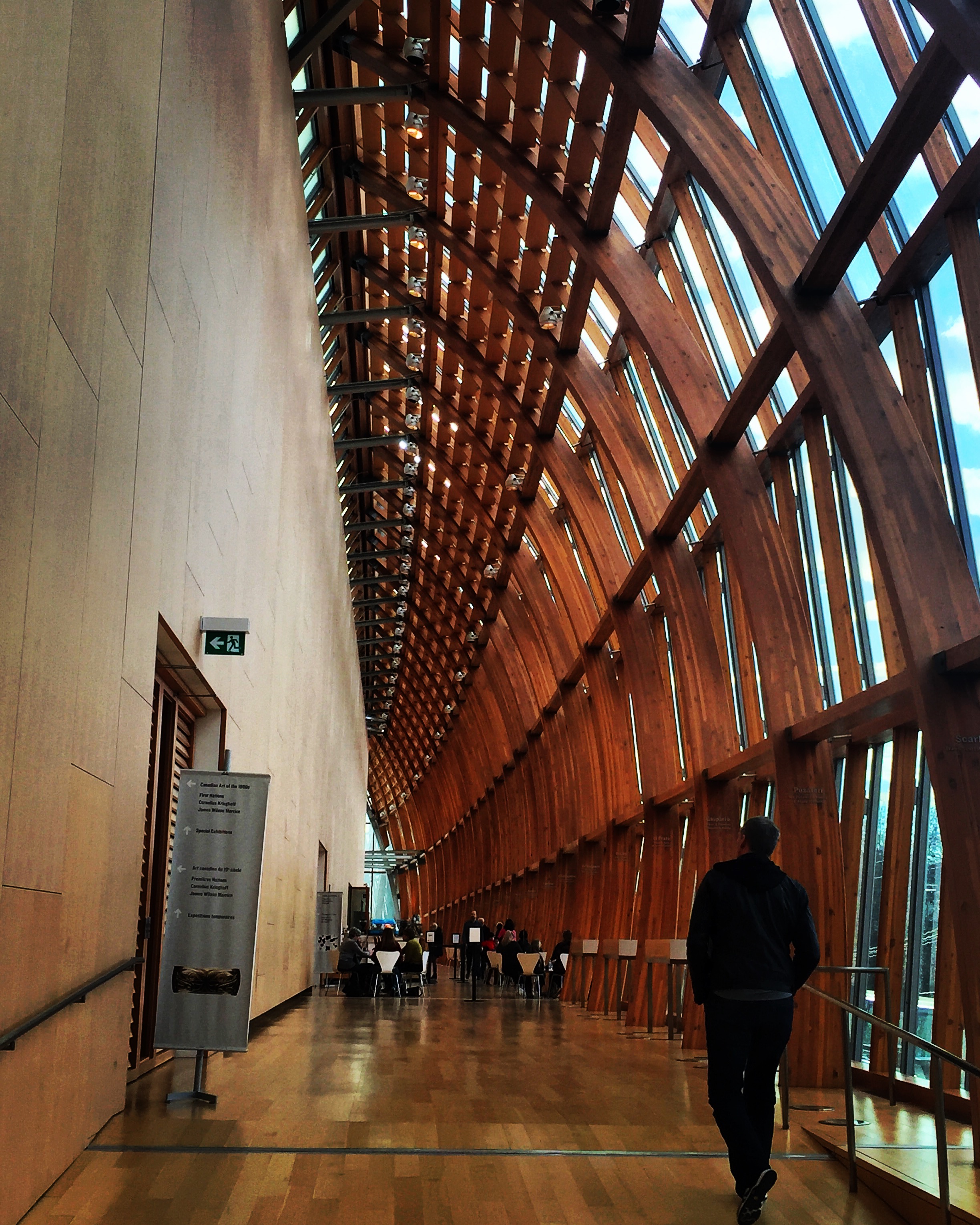 Later in the afternoon, I walked up to the AGO (a 20-30 minute walk from the Power Plant) and had a chance to see the newly opened "Outsiders: American Photography and Film: 1950's-80's" exhibition. Having spent a good chunk of my graduate program studying and researching the history of photography, especially from North America, I was not sure how much would be new in the show. Honestly, I was also a bit skeptical of the broad focus implied by the exhibition's description, but was intrigued by the subversive "Outsider" theme and published list of artists on the museum's website. Suffice it to say I was pleasantly surprised at what I saw at the AGO. Not only was the curatorial vision for the show fantastic—providing sufficient cross-over conversations between and across the range of artists presented, including multiple photo works by Diane Arbus, Nan Goldin, Garry Winogrand, and Gordon Parks to name but a few—but there was an attempt to intervene and pose critical questions to the audience around issues of agency, authenticity, and authorship in connection to the interrelated media of photography and film. Because of restrictions on photographing the show, I cannot provide documentation of specific photographs and films I encountered, but I encourage those interested to check out the AGO website and video below for more information about these artists and the show. All in all a satisfying visit to Toronto-- a city of multifaceted art experiences.