Tell us a little bit about yourself—your background, major program of study, reasons for taking this trip, and anything else interesting you want to share (maybe something people might not know about you).
My name is Lukas Paul, I am a 19 year-old digital artist from Boston Massachusetts, however I spent just over half of my childhood in Albuquerque New Mexico. I am a dual citizen, and just completed my freshman year at Simon Fraser University. I am passionate about the arts, but not necessarily Fine Arts. I am especially intrigued by Film, Music Videos, Album Art, Street Art, Street Fashion, and Experimental Hip Hop music. I am currently studying Fine Arts, but it might be advantageous for me to switch into a more film-based program in the future. After first experimenting with imovie in third grade, I have always found solace behind the editing board. This is my favourite portion of the filmmaking process, and is most likely my strongest artistic talent. While I do enjoy digital design and art making, I will most likely end up paying the bills with my editing talents. I aspire to be a music video and experimental film director, and one day release my own line of Street Fashion. Ultimately I just want to support myself doing something I love, and those two things would really make me excited to get up for work in the morning.
What has met or exceeded your expectations or surprised you about Paris so far?
To be perfectly honest this Paris trip has been life changing. I tried to go into the trip with a clean mental state, leaving any sort of expectations at home. The experiences I've had here will definitely affect my art profoundly, but how could they not? This entire trip has felt like some sort of French New Wave film, where my life jump cuts from one movie moment to the next. One minute I'm meeting a number one draft pick at the Louvre, the next minute me and Graham are almost getting hustled on the Rue Pigalle. I can't see myself forgetting memories like watching the sunrise in the park with your friends while listening to Pink Floyd's "Dark Side of the Moon." Even simply sitting at cafes absorbing the atmosphere. This entire trip has felt surreal, from beginning to end. I also did appreciate the Street Fashion, and Street Wear Boutiques of Paris. Colette ranks pretty highly in my repertoire of Street Fashion boutiques that I have visited. The street style of the Parisians is admirable as well, as they certainly blend a bit of Parisian flair. The experience of seeing these great works of art has removed a bit of the mystique from them. I have only seen these works through a computer screen or projector, so seeing them with their original aura intact has been quite an experience. It is quite an experience to see certain pieces that you hold quite a certain reverence for in person. Seeing pieces such as David's Oath of the Horatii, Duchamp's urinal, as well as original Mondrians and Warhols were breathtaking experiences. Overall I can't complain. Until next time Paris.
Give us some insight into your assigned artwork from the Orsay Museum. After seeing the work in person in Paris (and any other related art from the same artist or art movement associated with the assigned work), what struck you most about it and/or how did the artwork's form, content, and context shift for you when seeing it.
After searching for what seemed to be hours at the Orsay, I determined that my Cezanne (Card Player (1890-92)) had left the building. Upon leaving the museum I confirmed with Dorothy that these suspicions were true. While I was mildly disappointed, the show must go on. Instead of talking about someone else's Impressionist art work in this blog, I have decided to talk about my own. At approximately six o'clock in the morning one day, I decided to take a photo of Graham eating a Banana. He was just standing there on the curb in a full business suit and futsal shoes. Just chilling there, eating his banana. For some reason I found this spectacle to be quite amusing, so I decided to take a photo. I'm not entirely sure what perfect conditions led to the artistic blurriness of the photo, but it really resembled Impressionist art. When Graham and I first looked at the photograph it immediately reminded us of Manet's Absinthe Drinker (1859). We felt as if our photo was an accidental update on his painting. A depiction of the modern flaneur in his natural habitat. This photo actually provoked quite a discussion between us, as we pondered on the similarities between our photo and the Impressionist movement. It is a depiction of the modern flaneur, the wanderer, the appreciator of the city. The Impressionists were also into the capturing of fleeting ephemeral moments. Quick renderings of whatever the artist was seeing, experiencing or feeling. I would say that people attempt to do this now a days with their cell phone cameras. What easier way to capture the fleeting moments of modern life than with Snapchat. I cannot believe I just said that, but there is certainly some truth to it. These coupled with the formal similarities to Impressionist art made us dub this photo Modern Impressionism. Was it arrogant to do so? Maybe. The similarities were just too apparent. See it here and judge for yourself.
How did you approach the creative task of responding to this assigned work in studio? What were your challenges as an artist to be in dialogue with the artwork and artist? Would you do anything differently now that you have seen the work in person?
When creating my studio projects I barely kept the idea of Cezanne's The Card Player in my head. I kept it in just enough so that it would influence my pieces, but not too much to where I was trying to update or replicate his piece. For the first piece I related my content to Cezanne's elevation of lowly or forgotten subjects. The Gambler is not a particularly glamorous subject, and is also commonly overlooked. Lurking in the shadows of society, Cezanne elevates this lowly subject to center stage. He also did this with other lowly subject matter such as fruit and bathers. This particular elevation of commonly forgotten subject matter was probably the greatest influence in the creation of my piece. My piece was titled Holbrook AZ. Prior to the classroom portion of this field school, I drove my car from my parents' home in Albuquerque NM to Vancouver BC. On the way from Albuquerque to Phoenix I encountered a small town in Arizona along I-40 called Holbrook. The decaying retro/Americana signage, made me think of a place past its glory days. The town almost seemed forgotten to me. People come and stop for gas and perhaps a meal. They fuel up and head out on their way. This concept of forgotten subject matter resonated with me deeply even before laying eye on the Card Player. I am lucky that the themes from Cezanne's painting coincided with my photos of Holbrook. It made perfect sense to incorporate these photos into a pop art style video project. I related my second piece King of Roaches more to Cezanne's formal qualities instead of his content. I used hundreds of layers of distorted images to compile the bulk of the piece. I tried to emulate Cezanne by doing an intense study of an object, formulated tediously through hundreds of individual pieces. This coupled with a choppy unfinished look tied the piece directly back to Cezanne in my eyes.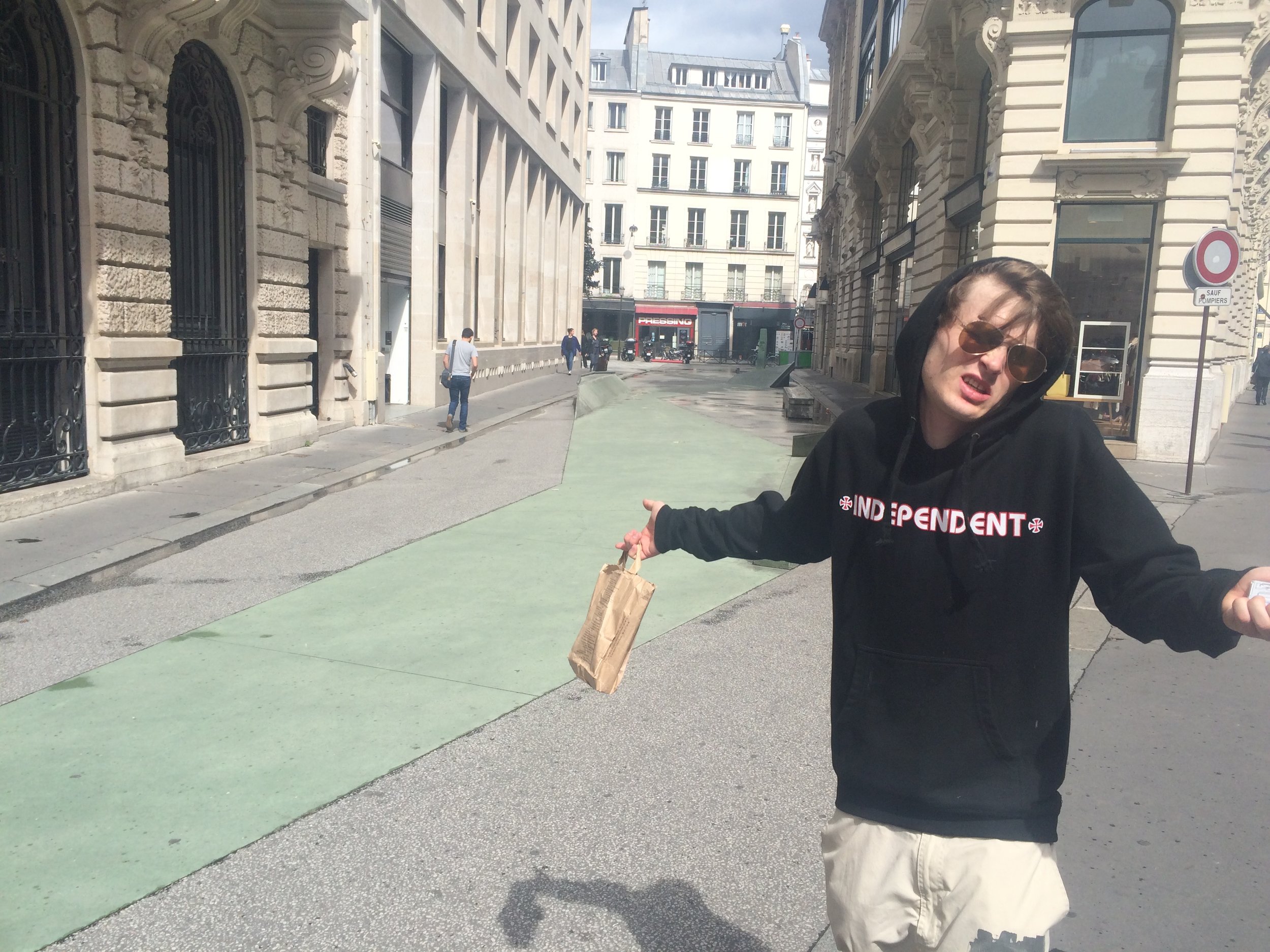 Today's activity was a free day on our last day in the city of Paris. What were your impressions? What will you take away of the experiences of this day? What are the most memorable moments for you?
On my final day in Paris, Graham and I finally found what we had been looking for; pick up football. While strolling around the gardens of Bercy we encountered a football cage inhabited by children. After butchering our first interaction once again, the children finally came to the conclusion that we wanted to play with them. While these children were about half the size of us, some of them certainly possessed more skill than me. It is crazy seeing the ridiculous talent pool in this country, individuals who possess probably the deepest roster of any national team in the world. Even the children on the street will whoop your ass. After playing with the kids for a while the adults took the pitch. I hopped in goal for my team as we battled it out in the Parisian cages. I put my body on the line on the playing surface, and have some battle wounds to show for it. I love playing Football anywhere I go, it crosses any sort of cultural or linguistic boundaries. While I might not have been able to hold a conversation with any of the people I was playing with, I can still hang out with them with a ball at our feet. While it may sound cliche the game crosses all boundaries and borders. I was really quite thrilled to finally find a good pickup game in Paris.
To see more photos and impressions of Paris and Kassel as the field school continues, check out our Instagram feed #kpuparis