Tell us a little bit about yourself—your background, major program of study, reasons for taking this trip, and anything else interesting you want to share (maybe something people might not know about you).
My name is Stephane Dufault, and I am a third year Fine Arts student moving on to fourth-year this fall. My area of study has mainly been drawing and painting, but I would like to challenge myself further by using creative nods and references found from my previous art history classes. I will be graduating in spring of 2018, and as I continue on into my fourth year program, I believe that my art requires creative aspects from art history to further push my creative thinking and ideas. As I have partaken in this trip, it felt to me as a once-in-a-lifetime opportunity to be able to study abroad with fellow students like myself, and travel and see up close artwork I have studied in my previous classes and to see them with my own eyes. The level of authenticity in viewing artwork with your own eyes and not from a computer screen makes the journey worthwhile and helps expand creative thought processing and idea building.
What has met or exceeded your expectations or surprised you about Kassel so far?
With Kassel, the city streets feel more open and vibrant to travel through. Unlike Paris, the streets are not stretched thin or narrow and are not crowded with cars wanting to get from place to place. Kassel feels more open and allows its citizens to take up as much space as they like and not be overwhelmed by its large and expansive streets. Walking towards the city from the hotel, the first glimpse of Kassel feels open and inviting. There are no restrictions in terms of travel and it feels encouraging to be able to cover ground on the streets of Kassel to explore new and unfamiliar areas of the city. As my expectations continue to grow traveling through the city, I am still looking forward to exploring uncharted areas of the city and to be able to discover areas and shops I did not notice my first time around.
Give us some insight into your assigned artwork from the Orsay Musuem. After seeing the work in person in Paris (and any other related art from the same artist or art movement associated with the assigned work), what struck you most about it and/or how did the artwork's form, content, and context shift for you when seeing it.
For my assigned artwork, I was assigned Georges Seurat's 1891 painting The Circus. Made in a Neo-impressionistic style with oil paints on canvas, it was the last piece Seurat made before his death in 1891. The painting was created using bright vivid tones and painted in a pointillistic form. The painting, however, remains unfinished, as Seurat was never able to finish the painting after his death.
After seeing this piece in the Orsay Museum, I felt quite underwhelmed. Seeing the painting for the first time, the painting did not feel like it belonged in comparison to the other pointillistic pieces in the room in which The Circus sits. Looking at the painting through the screen seemed to be more enlightening than looking at the painting in real life. Even if the digital representation distorts or adjusts the color of the image, the painting seemed far more vivid and bright through its tones just by viewing it from a specific source. Seeing it in person, however, felt more of a bland and unfinished experience that feels as if something appears empty when gazing upon the piece.
By its content, the piece hints subtlety about the distinction of social class and how people come together through performance. Although looking at the painting does not shift this idea, it does numb this aspect due to the unfinished quality of the piece. Finally, by its context, viewing the artwork in the Orsay relies upon presenting entertainment and movement within the moment of the depicted scene. The aspect of movement is clearly retained within the piece, as it does establish a gripping sense of placing a subject found at the moment in front of an audience that is separated by social class. Seeing it in the Orsay manages to highlight an aspect of the "in the moment" quality of Neo-Impressionism as well as presenting audiences with the idea of performance being a distraction from everyday problems in the world.
How did you approach the creative task of responding to this assigned work in studio? What were your challenges as an artist to be in dialogue with the artwork and artist? Would you do anything differently now that you have seen the work in person?
With each assignment for the studio portion of the field school, I relied solely upon creating artwork I saw and documented it in my journal. Some of the challenges I embarked on in the process was mainly with the representation of the subject I was gazing upon and sketching. Like most artists, I do not seek to recreate an entire piece of work another artist has made, but rather add my own take on its style. In regards to representation, it is challenging to make art that appears entirely new. The problem is that someone will likely have seen something like your image before and respond in their own way and will struggle to find a new take on it. In this respect, there is nothing I would change about my studio projects.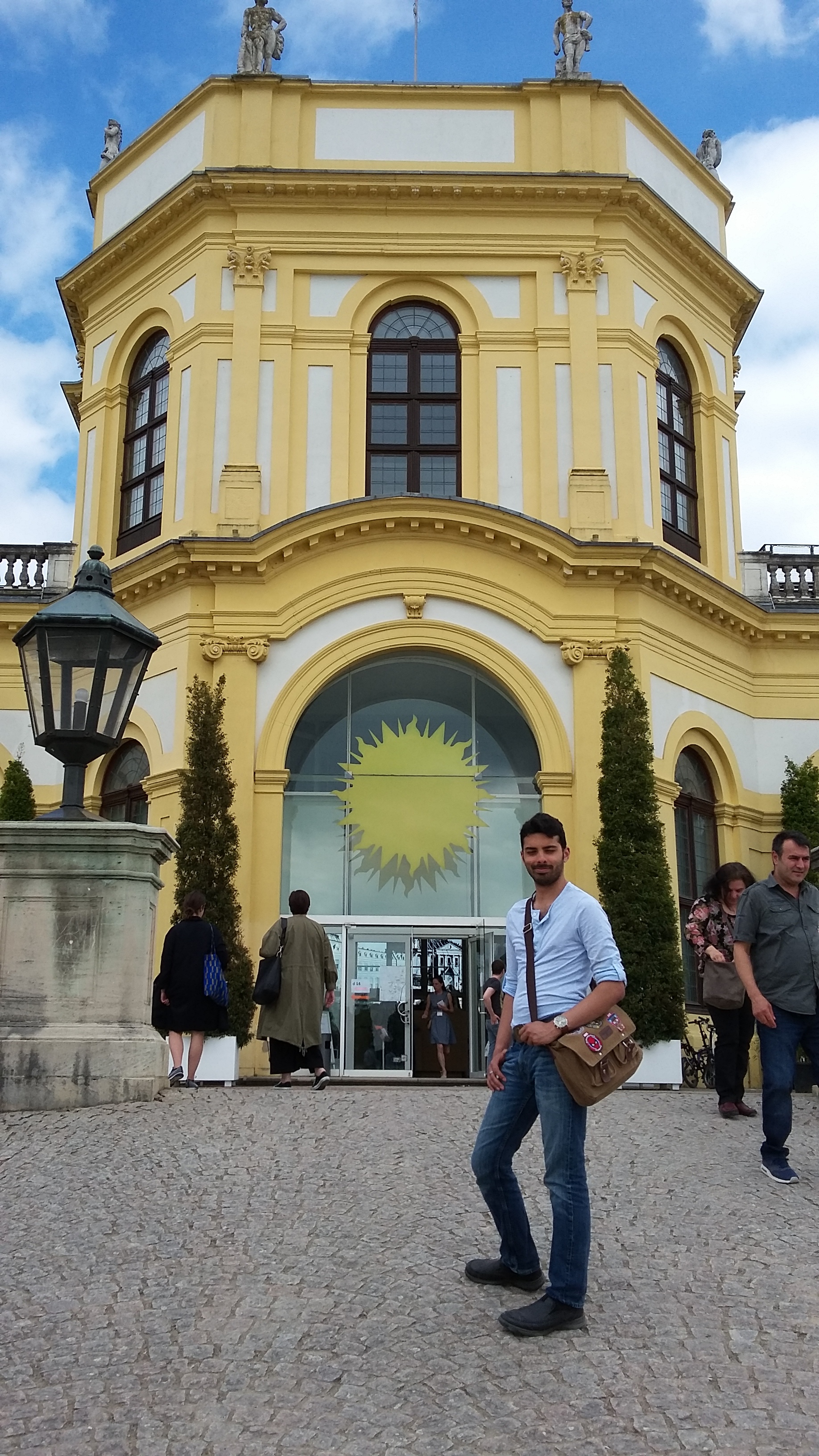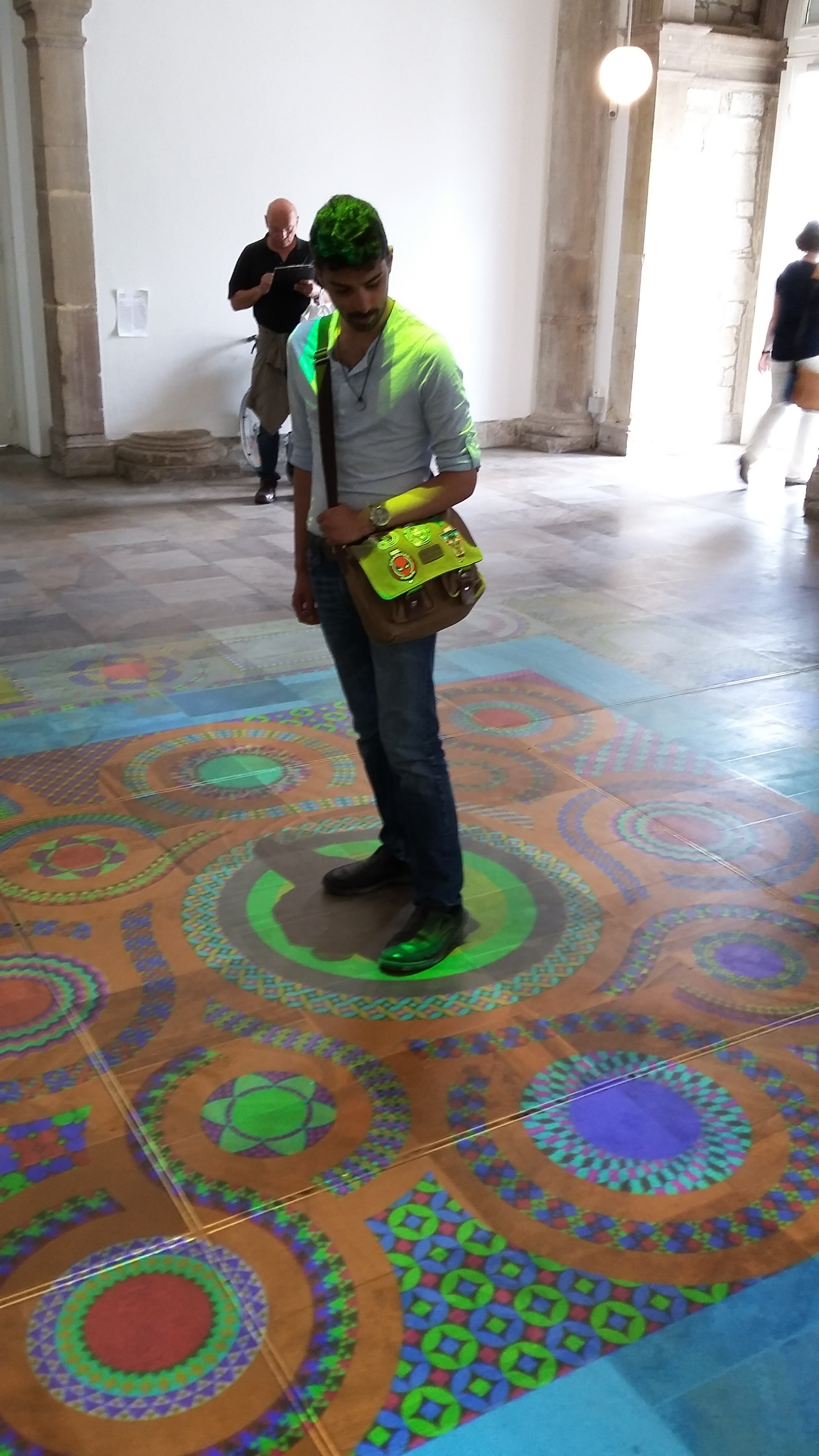 Today's activity was located at the Documenta 14 exhibit. What were your impressions? What will you take away of the experiences of this day? What are the most memorable moments for you?
Today's activity was located at the Documenta 14 exhibition in Kassel, Germany. As I traveled down to Documenta, the show felt very dynamic and expansive. The exhibition did not have a handholding pace to walk the viewer through the exhibition grounds. Instead, the exhibit encourages its viewers to view at their own pace and in their own time. By doing so, the exhibition feels expansive and encourages exploration, as there are artworks in unexpected areas of the city many spectators could easily miss the first time through. Traveling through Documenta, there were works of art that I did not realize at first could be considered artful in the world of art production.
Seeing Documenta made me realize that art could be as simple or as complicated as the artist wants, and can produce creative dialogue with the spectator. With today's experience, I will be taking away the sheer dynamic range and expansive quality the show is recognized for, as well as the use of ready-made objects to create artwork in new and strange ways. Documenta will remain memorable to me for its sheer creative diversity of installation and artistic application of form and scope in art making, as well as giving audiences the expansive freedom in viewing art at their own pace. A show produced once every five years is quite something to walk away from and feel proud talking about.
To see more photos and impressions of Paris and Kassel as the field school continues, check out our Instagram feed #kpuparis