Looking at art in a gallery can be an intimidating and even frustrating proposition. Whether it is a lack of information on the walls, the overwhelming size of the collections, or fear that you somehow aren't "getting" what you are looking at, there are many different ways that an art gallery can be potentially alienating. Over the years as I have taught people how to consider and look at art inside and outside the classroom, the art gallery visit has always proven a challenging assignment, even when taking excited students to art cities around the world on field schools.
For artists-in-training, there is the special fear that looking at other people's art will challenge their practice and tastes or result in inadvertent appropriation, and for students new to art history or particular kinds of art (especially modern and contemporary), there is the reality that much of the art in today's galleries is intended to move people beyond their comfort zones, and will not necessarily please or engage viewers as more traditional art of the past.
As such, learning how to navigate an art gallery is a valuable skill, and one that is not often taught. Following below are a set of guidelines to successfully plan and execute an art gallery visit. I will be using my most recent visit to the Vancouver Art Gallery's Takashi Murakami retrospective as a working example, modeling how the ten steps provide an active framework for the visit determined by your own unique and individual interests.
The steps:
1. Select your exhibition
2. Select your date and time
3. Decide on what/who you will bring to the gallery
4. Do some pre-visit research
5. Do a quick "once-around" viewing
6. Note which rooms and works capture your attention
7. Move through for a second more focused viewing
8. Select 2-3 works for focused attention
9. Stop, sit, and look at your chosen works carefully
10. Write, sketch, document your visit
STEP 1: Select your exhibition
This first step can be approached in many ways, and often quite spontaneously, but it is important to be somewhat intentional in what art you want to see. Whether it is in your own backyard or in a city you are planning to visit, I have found it makes most sense to select by exhibition/collection/artist and not necessarily by art institution (more on this later). In my case, I chose the Murakami show because it is a retrospective—showing a range of art works over one artist's lifetime—and because Murakami is an artist I have taught for years in many different contexts across a range of art history and theory courses. Finally, I decided to make time for this particular show as I will be spending three weeks in Asia next month (including Japan), and I wanted to learn more about how Murakami has negotiated Japanese art traditions in his practice.
STEP 2: Select your date and time
Depending on the atmosphere you are looking for, choose your date and time wisely when attending your exhibition. The busiest time to visit a show is within a week of the opening and during weekends and evenings. Going to the opening is also an option and can be lots of fun, but you will almost certainly require a return visit to actually take in the art. The quietest time to visit a show is in its closing weeks and during weekdays. For my trip, I chose a weekday and two hours after opening to avoid the morning and school children visitor rush.
STEP 3: Decide on what/who you will bring to the gallery
I am mostly a loner when it comes to gallery going, and this visit was no different, but I will attend galleries with friends and colleagues if we agree to part ways for at least the majority of the visit. For my visit, I brought my iPhone (for photography, which was allowed for this show) and a small notebook and/or sketchbook with a mechanical pencil (some galleries do not allow ink pens). I put all of this in a small cross-body purse to be hands free while walking the space. You will also be asked to check any large bags or backpacks, so make sure to keep your items compact. You will want to decide, depending on your purpose, if your visit will be solo or with a friend, and what items you want to have with you to document your visit.
STEP 4: Do some pre-visit research
I cannot stress enough how important it is to do a small amount of research before making the investment of time and money to visit an art gallery. Here is when the choice to simply visit an art institution can backfire. In my case, I chose the Murakami show and had budgeted 1-1.5 hours to spend at the gallery. Had I decided to see more than that in one day (which I do not normally advise) I would have checked to see what else was open at the VAG. As it happens, all of the other spaces in the gallery were closed in preparation for new shows. Had I chosen to visit the gallery hoping to tour its collection, I would have been very disappointed. The same can be said when hoping to see a particular work of art when visiting a gallery, especially when out of town. Many institutions lend their art works to traveling shows and it is therefore worth the time to inquire if certain works will be available to see when visiting.
In addition to checking the opening/closing times of institutions, special discounts and free days, and other exhibition info at the venue you are visiting, it is always a good idea to read the exhibition description carefully to understand the scope and scale of the show. You can also do a small amount of research about the show itself if appropriate (via reviews and/or press material) to equip yourself with more context.
STEP 5: Do a quick "once-around" viewing
So now that you have prepared yourself and arrived at the gallery, you will want a viewing strategy. Many people instinctively begin moving through an exhibition attempting to look at and read everything in the order presented. Please, please, avoid this tactic. First, you will find yourself giving over far more energy to the beginning of the show as you lose steam moving through other sections and rooms, and second, you will be far less critical and aware of how the show has been curated. To avoid both of these pitfalls, I encourage you to walk the entire exhibition, from beginning to end at least once, spending no more than 10-15 minutes doing so. Read the show like a menu. I almost always begin backwards (also great to avoid the crowds moving to the beginning of the show), but you can choose to do this in any way that you like.
At the Murakami show, I knew I would be looking at a retrospective and therefore decided to begin from the present and work my way backwards in time. I also hopped around quite a bit, but did mostly a perimeter walk and then moved inwards to look at special rooms and niches. The gallery of images below captures some of that randomness in this exercise (click on any image to enlarge for a closer look).
If you have arrived at a gallery hoping to see many exhibitions, I suggest the same strategy on a broader scale—i.e. walk the institution. Go to the top floor of the building, or one side of the building, and work your way down or across, noting which shows are located in which spaces. Trust me, this may seem counterintuitive, but there is a purpose here.
STEP 6: Note which rooms and works capture your attention
The point of the "once around" viewing is to spark your interest and attention in what is being presented without relying solely on the curator's narrative. What I mean here is that most exhibitions are set up to highlight and give emphasis to a story/theme/set of objects that are relevant to the organizers of the show. While the curatorial vision is important and you should pay attention to it (after all, that is how exhibitions find their way into spaces), it is equally important to establish your own relationship to the art works and find what captures your own particular interests and imagination.
When walking the Murakami show, I already knew that an emphasis would be placed on his large-scale murals and more commercial and cross-over objects that merge high and low Japanese culture, and his collaborations with other artists, musicians, and designers. But interestingly enough, I was completely enthralled by a set of conceptual projects that he did very early in his career, and ended up making a mental note to look more carefully at works from the earliest phases of his career—a topic I know relatively little about. I photographed three of these you can see in the gallery below.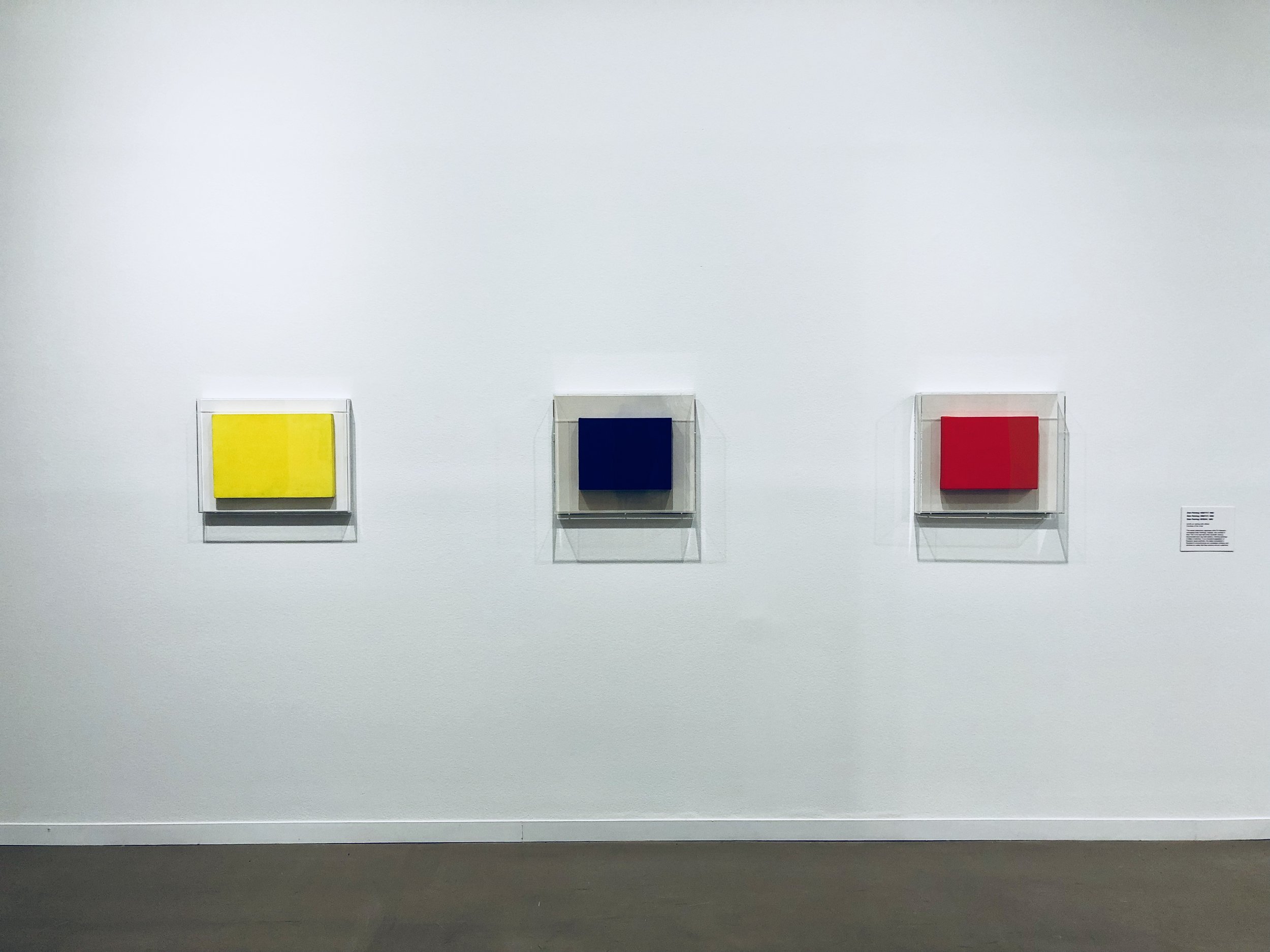 STEP 7: Move through for a second more focused viewing
Once you perform your first "once around," do it a second and even third time to close in even closer on the art works that spark your interest most. Use the gallery wall texts to help guide you, but do not rely on them to tell you the whole story of what you are looking at.
The Murakami show is, as it should be, a giant spectacle in many ways, and so there is no shortage of things to capture my attention. As I move through a second and third time, I make an effort to begin noticing the quieter and smaller Murakami works, noting that that many of his larger pieces also have a great deal of nearly hidden text and smaller drawing embedded within the details. As I look closer and closer, I realize that the retrospective has really made an effort to showcase a much more dimensional artist than is normally portrayed in the celebrity art world (of which he is a very notorious figure). Importantly, I am arriving at many of these associations on my own—something I assure you that each of us is capable of doing as part of our viewing experience. Trust your instincts, observations, and associations, as there is no correct way to look at a body of art works.
STEP 8: Select 2-3 works for focused attention
Make sure to zero in on at least 2-3 art works for closer attention as you move through the exhibition. Sometimes I ask students to pick the works that they would most want to own, or select as representative of the best thing they viewed, to spark this decision-making process. You may want to immediately photograph the works to remind you of which ones you shortlisted, or jot down their titles in your notebook. Don't worry about spending time with them just yet—you will make that focused time as the final part of your visit.
It was tough to make my selections at the Murakami show, but I tried to limit myself to choose only a handful of objects for closer reading as both a challenge, and also a way to force consideration of what is most striking and interesting to me in the exhibition. In the end, I picked three works (from left to right in the image gallery below): the Data Painting Series (1992), From the perceived debris of the universe, we are still yet unable to reach the stage of nirvana (2008); and Tragicomedy of a Painter Living Day In and Day Out in His Studio Haunted by Deadlines (2018).
Step 9: Stop, sit, and look at your chosen works carefully
Now is the moment where you get to do something that many never will—look more closely at art! Think of it, most gallery goers will spend no more than a few seconds (or at most a minute) looking at an art object. There is even an entire slow art movement created to help encourage people to slow down and look more carefully at the art in our museums. And you can imagine how artists feel labouring on projects that many will only glance at in passing at a show.
This step is perhaps the most satisfying part of any gallery visit, as it is a chance to really take in and notice something important in the art works that first sparked your interest. How you do this is entirely up to you. Of course, the entire point of studying art history is to learn to look at art in this close and studied way. If you don't know where to start, try to focus on one of the fundamentals: the FORM of the art work (the materials or how the work is put together), the CONTENT of the art work (the story, theme, or symbolism of the work), or the CONTEXT of the art work (the circumstances or history of the work's production and circulation).
Returning to my chosen three works, I made meaningful connections for me. I chose Data Painting Series (1992) for its context, as I was truly taken by the way Murakami referenced conceptual painting by another Japanese artist, On Kawara, and his choice to embed almost invisible and arbitrary dates onto canvases that on their face look like monochrome paintings. I chose From the perceived debris of the universe, we are still yet unable to reach the stage of nirvana (2008) purely for the form, as I loved the metallic colours and striking contrast and look of the materials. As I read the wall text, I learned about Murakami's interest in looking back at traditional Buddhist art to provide context, but I initially chose this painting on aesthetic grounds. Finally, I chose Tragicomedy of a Painter Living Day In and Day Out in His Studio Haunted by Deadlines (2018) exclusively for the content or story that was written directly onto the canvas. Murakami made the work as an apology to his Vancouver audience for not being able to complete all of his paintings for the show. I chuckled when I first read the title as it is both honest and vulnerable to admit the realities of what goes on in the day to day life of a working artist. On its surface, the striking yellow and red contrast the black and white photo of Murakami sitting in his studio, but it is only once you look very closely that you can read the typewritten text (which is also reprinted next to the work for those who miss it).
Step 10: Write, sketch, and document your visit
This final step is much more useful now that you have taken in an exhibition at the macro and micro level. Taking more photos, or perhaps sitting down to sketch something of interest that you see in the details of one of your chosen art works helps mark the art gallery visit in more personal and relevant ways to you. Over the years, I have heard back from students who have never forgotten some seemingly minor work in an exhibition that would later inspire an idea or even a new project in their own studio.
My notes, sketches, and photos are used in my research and the classroom, yes, but I also create and save this documentation to help cultivate my own artistic tastes and interests. With the Murakami show, I walk away with a new appreciation for the role of Japanese visual culture ahead of my Asia trip, along with a curiosity to learn more about the artist's early career and a new realization of how one-dimensional much of the Murakami coverage is in the art world. Ultimately, this is the goal of any art gallery visit—to help foster your own meaningful connections and understandings about what you are shown, along with gaining confidence and knowledge in looking at art with a critical and creative eye.